The Database Preview in the database window is helpful. When you select a database in the database section, it lists the games it contains. Depending on what you want to do, the Database Preview can be as useful as a games list window, so you may not need to open the database.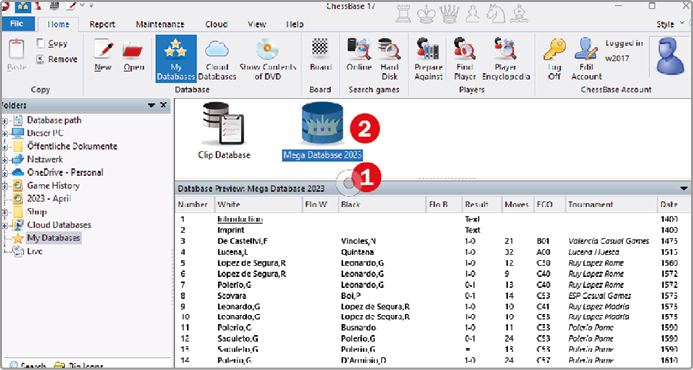 In the Database Preview, for instance, you can rearrange the way the games are displayed by clicking on a column title, just as you would do in a games list window. For example, to first display the most recent games, click on the column title Date once. Every subsequent click on the column title reverses the sequence of order. Just as in a games list window, by using a double-click on a game, it opens in a board window.

If the Database Preview is not displayed, you can activate it by enabling the corresponding check box on the View

tab.
With the check box next to Folders

you can hide and show the database explorer. If the check box next to Status Bar

is activated, a status bar with context-dependent information appears at the bottom of the database window. If, for example, a physical folder is selected in the database explorer, you will see its path in the status line.